Once again, The Lazy M Ranch, owned by MK Marlow Company CEO, Mark Marlow, opened its gates to Cross Trail Outfitters (CTO), a non-profit Christian youth hunting and fishing program, for their annual youth hunt.
"It's important for me to keep this tradition alive," explained Marlow. "I'm happy to provide the land for CTO's activities and the reactions from the kids and what they take away is priceless."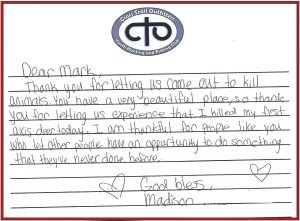 Through the generous support of landowners, the youth participating in the program learn about the heritage of hunting and fishing while sharing their faith. CTO coordinates activities and logistics, offering a wide range of year-round outdoor activities. Businesses, landowners and individuals interested in learning more can visit www.teamcto.org/texas.