MK Marlow Company – Striving to set the standard for excellence in the drywall and acoustics industry.
Since its beginning over thirty-two years ago as a two-man team, MK Marlow Company has grown and developed into the premier drywall and acoustical contractor serving Central and South Texas. This team approach continues to be the core philosophy of the company, one that values the ongoing collaboration between the customer and our experienced staff and skilled craftsmen. At MK Marlow Company we believe walls are meant to be constructed for buildings; walls should not hinder our association with clients. Our mission is to achieve open and lasting relationships through competitive but fair bidding, efficient productivity, superior workmanship, and a distinctive finished product. We strive to exceed expectations and build a steadfast reputation by providing excellence from start to finish.
Our mission is to achieve open and lasting relationships through competitive but fair bidding, efficient productivity, superior workmanship, and a distinctive finished product. We strive to exceed expectations and build a steadfast reputation by providing…
…Excellence from start to finish.
Here at MK Marlow we promote safety through continuous professional development of our managers and workers. We strive to operate efficiently and safely, providing quality service and innovative processes to serve our customers and employees. Second only to Safety is our desire to provide the highest degree of excellence to our customers from start to finish.
MK Marlow – Acoustics + Drywall
Mark Marlow
CEO
Mark is a graduate of Texas A&M University at College Station with a degree in Construction Science and has been involved in the construction industry his whole life. While in graduate school, Mark and a partner started a small general contracting firm named Design Construct that specialized in interior finish out work. A few years later they started a second company named Acoustics Unlimited that specialized in drywall and acoustics work. In 1995, Mark bought out his partner and consolidated both companies under the current company name, MK Marlow Company, LTD., LLP.  
For ten years, Mark served on the board of the Texas Mid-coast Chapter of the Associated Builders and Contractors, and in 1995 as President of the chapter. He also served as a national board member of the Associated Builders and Contractors and is a past Executive Board Member of the Contractors Safety Council.
Todd Thomas
President
Todd is an Owner and President of MK Marlow Company. His experience spans more than thirty years with large commercial projects involving interior and exterior metal stud framing, drywall, stucco, EIFS and acoustical systems. His extensive and varied experience includes construction of hotels, theme park projects, hospitals, offices, educational buildings, retail centers, and public buildings. 
Todd started his career in the fields as a Laborer and advanced to Apprentice, Journeyman, and finally Foreman. At MK Marlow he has worked as a Project Manager, Senior Project Manager, Director of Operations, and now President. Todd is responsible for the oversight of all aspects of the MK Marlow Company. 
David Schultze
Controller
David is a graduate of Texas Lutheran University with degrees in Business Administration and Accounting. He is a Certified Public Accountant (CPA), a member of CFMA, and has more than twenty years of experience in Accounting, including eight years in Public Accounting and additional experience in various accounting roles within the Construction industry. David is responsible for managing Finance, Accounting and Human Resources at MK Marlow Company. 
Rick Lair
Corporate Safety Director, CSHO
Rick has more than thirty-nine years of experience in the commercial drywall business. As Safety Director, he's responsible for all aspects of MK Marlow's Safety and Loss Prevention Programs. Rick has an extensive amount of Safety Training to include the OSHA 500 and OSHA 501 courses. He also personally trains all of our field staff in CPR AED First Aid, Forklift Training, Scaffold Training, Fall Protection as well as Scissor and Boom Lift Training. When not at work, Rick volunteers his personal time to his community as an Advanced Certified Firefighter. He's a great asset to the MK Marlow Company and clients. 
Larry Walker
Chief Estimator/Division Mgr.- Austin
Larry has nearly 25 years of experience in the metal framing, drywall and acoustical ceiling industry. He started his construction career in the field as a Drywall Installer and worked his way up to become a Branch Manager. He has spent the last 15 years in the Southeast commercial construction market estimating a variety of projects including theme park attractions, sports venues, museums, healthcare facilities, office buildings and educational facilities.
Daniel Espinoza
Estimator
Daniel is a graduate of Texas A&M University College Station with a degree in Industrial Engineering. With more than 7 years combined field and office experience in commercial drywall construction, Daniel brings the analytical skills and field experience to complete accurate and realistic cost estimates. In his free time Daniel enjoys working out, outdoor sports, and spending time with family and friends.
Chris Kempton
Senior Project Manager
Chris is a graduate of the University of Texas at San Antonio, with a BFA in English Literature and Language, and an MBA in Project Management. Chris has more than nineteen years of varied experience in the construction industry, from working in the field as a foreman and superintendent, to transitioning into the office as a Project Manager. His experience is well rounded by time spent in the General Contractor role, working with multiple trades on various projects in a leadership position. Prior to this, he proudly served as an Airborne Infantryman in the United States Army. 
Chris Hill
Senior Project Manager
Born and raised in Kansas City, MO, Chris joined the Carpenters Union in the mid-1980's. He worked his way up from the field, to Field Superintendent, then Project and Branch Manager positions. His more than 30-year career has taken him across the United States including Nebraska, Arizona, and most recently, Florida. In the summer of 2020, Chris joined MK Marlow in Austin as a Senior Project Manager.
Sergio Lira
Project Manager
With more than 20 years of experience in construction, Sergio has worked as a Project Engineer, Project Coordinator, and Project Manger. His career in construction began in Colorado, and in 2012 he earned a degree in Business Science with a concentration in Project Management. He's OSHA 30 trained and in his free time Sergio likes to workout, watch football and travel.
Juan Martinez
Project Manager
Juan began his current career more than 10 years ago, working his way up to the position of Project Manager. His technical expertise and analytical thinking bring a top tier skill set to all of the projects he manages. Juan's education includes a Professional Certificate in Sustainable Agriculture from California Polytechnic State University in San Luis Obispo, CA, and a Construction Estimating and Bidding Technical Certificate from San Diego State University in San Diego, CA.  He is also a Veteran of the USMC, having worked in aviation logistics.
Abel Guajardo
Project Manager
Abel is a graduate of UTSA with a BS in Architecture, and of Texas A&M International University with a degree in Business Administration. He studied in Barcelona, Spain through the UTSA CACP Signature Experience Study Abroad Program, focusing on Architecture & Urban Planning. To his role as Project Manager for MK Marlow, he brings experience in carpentry, as a field engineer, and in architecture. Abel is OSHA 30 certified and a member of the Corporate Safety Committee at MK Marlow. When not at work, Abel enjoys outdoor sports, sketching, gaming, and volunteering at Habitat for Humanity.
April Richards
Contracts Administration Manager
April serves as Contracts Administration Manager for MK Marlow. With more than twenty years of experience in various office and administrative tasks, she's worked the last 16 years focused in the construction industry as a business/office manager, and has recently been promoted to Contracts Administration Manager. In her spare time, April enjoys traveling throughout the United States and abroad and reading.
Jeff Canion
Warehouse Manager
Jeff began his career serving in the United States Navy as a torpedo man on the U.S.S. Monterey. After his service, Jeff supervised warehouse operations in the retail industry for eight years, specializing in inventory control, and shipping and receiving. Jeff later moved on to general construction, his nineteen years of experience varied in both residential and commercial. Jeff's combined experience makes him a great addition to MK Marlow Company. As warehouse manager, he ensures all warehouse processes are running smoothly and timely, and also identifies opportunities for warehousing operation improvements. 
Sergio Garcia
Truck Driver/Delivery
Prior to joining the team at MK Marlow, Sergio worked for the City of San Antonio.  His experience in the drywall industry spans more than 19 years, eight of those years have been with MK Marlow.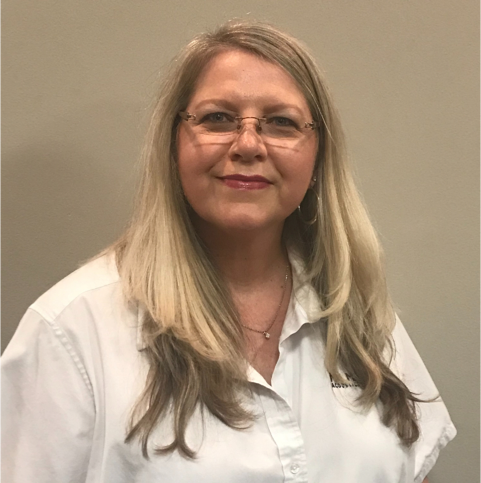 Melanie Huckle
Office Manager
A Texas native who joined the MK Marlow team in December 2020, Melanie's career has included extensive work in multi-state payroll and garnishments, human resources, benefits, and accounts receivable. When she's not working, Melanie loves living in the country, and spending time with family and friends. We are excited to have her as part of the team.
MK Marlow – Acoustics + Drywall